Dentures – Zionsville, IN
Get Back the Smile You Deserve!
Your teeth are incredibly important for eating and speaking; without a full set of pearly whites, not only do these everyday tasks become more difficult, but the appearance of your smile will diminish. At Trinity Dental in Zionsville, we want all of our patients to live life to the fullest, so we offer various kinds of dentures to help restore functionality to your mouth. Contact us today to schedule a consultation with Dr. Angelo M. Julovich to find the tooth replacement solution that's best for you.
What are Dentures?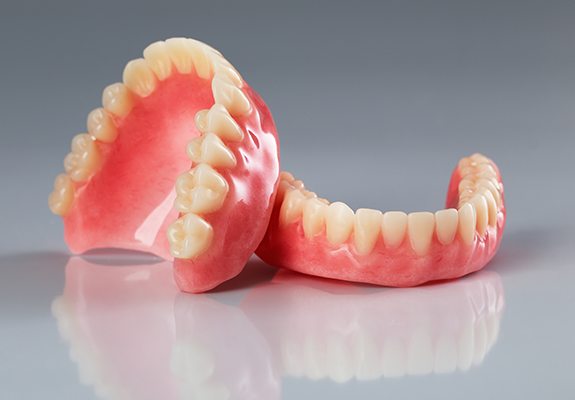 Dentures are used to replace multiple teeth at once. They can be used on both the upper and lower jaws. The teeth are made out of ceramic and are set on a base with a metal frame covered in a gum-colored plastic, creating a natural look. Modern dentures are designed with comfort in mind, although you will still need time to adjust to the new sensations in your mouth.
What Kind of Dentures are There?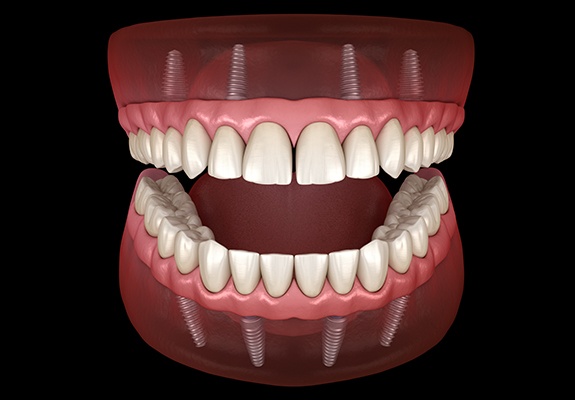 There are three kinds of dentures you can get at Trinity Dental depending on your needs:
Full Dentures: These are used to replace an entire row of teeth. They'll allow you to talk and laugh with confidence. Traditionally, dentures rely on natural suction in the mouth or adhesives to stay in place.
Implant Retained Dentures: In some cases, dentures can be placed on metal posts surgically inserted into the jawbone. This keeps your new teeth from slipping without having to rely on adhesives. Since they're integrated with the jawbone, implants will prevent the bone loss that occurs when teeth are missing. The metal posts last for a very long time – possibly a lifetime with good maintenance.
Partial Dentures: If you still have some teeth remaining, partial dentures may be used to keep them from drifting out of position while improving eating and speaking ability.
What are the Benefits of Dentures?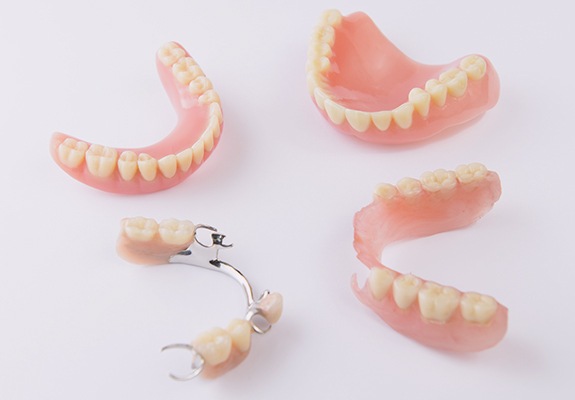 Missing teeth can have a negative impact on your appearance, but dentures can restore your smile; additionally, they'll support your facial structure and help keep the muscles in your face, jaw and neck well-toned, letting you maintain a more youthful appearance.
Dentures can also improve your overall health by allowing you to continue to eat a well-balanced diet. You may need some time to adjust to eating with traditional dentures that lack implants, but eventually you'll be able to comfortably eat most of your favorite foods again.
Well-fitted dentures will be secure in the mouth, so you won't need to worry about too much slipping while speaking.
How Much Do Dentures Cost?
Every patient's situation is different, and costs will vary depending on the type of denture you get as well as other factors. In many cases, your dental insurance plan will at least partially cover dentures. We'll help you create an estimate of the total costs and make sure your new smile is affordable.