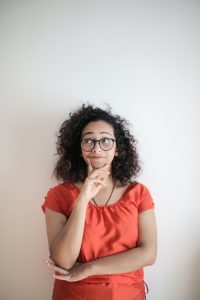 Crowns have been used for decades because they are durable and effective. Whether used to prevent a weakened tooth from breaking or repairing significant decay, a crown can last for a decade or more with the right care. You might be surprised to see a black line around the dental crown as time passes. This is a common issue for patients with metal or porcelain fused to metal restorations. Don't worry, your dentist has the solutions you need to erase the line. 
What Causes Black Lines Near the Gums?
A dental crown is a customized cap that covers the entire surface of a tooth that's above the gum line. Although modern restorations are made of porcelain, metals were the go-to materials for decades. Over time, metal can show near the gum line because of its composition, which can be quite obvious. Often, it's caused by gum recession from an infection, aggressive brushing, or bad oral habits. No matter the reason, your dentist can restore a beautiful smile.
Say Goodbye to Black Lines
A dark line doesn't have to be the focal point of your smile. You'll need to schedule a consultation with your cosmetic dentist for an all-ceramic crown. If your current restoration is older than 10 years, it's likely time to replace it, anyway.
Your cosmetic dentist will remove your old crown and clean your tooth. After performing any necessary treatments, they'll take a digital impression of your tooth, which is used along with advanced technology to design your new restoration. It can take the dental lab a couple of weeks to craft your crown, so your dentist will apply a temporary restoration while you wait. After your final restoration has been sent back to the office, you'll return to have it bonded to your tooth.
The restoration won't contain any metals, so you don't have to worry about a black line down the road. Not to mention, the material is customized to match the color of your teeth to blend in. No one will know it isn't part of your natural smile. Although porcelain crowns are metal free, they are just as durable and can last for many years with the right maintenance, like brushing and flossing.
Benefits of All-Ceramic Crowns
Besides resolving the black line, all-ceramic crowns offer several advantages. Here are the top reasons to consider swapping your older restoration with a porcelain crown:
Natural-looking results
No risk of metal allergies
Biocompatible
Durable, high-quality materials
Feels like a real tooth
Long-term solution
You won't have to think twice about the way your teeth look when chatting with a friend or smiling for a picture. You'll have a beautiful, attractive smile using an all-ceramic restoration.
About Dr. Angelo M. Julovich
Dr. Julovich achieved his dental degree from the Indiana University School of Dentistry and regularly pursues higher education in advanced services, like restorations and aesthetics. Named a Top Dentist in the Zionsville area, he has a reputation you can trust. Contact our office today to request your consultation for a new crown.