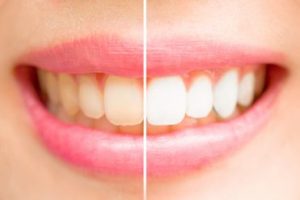 These days, countless people have brightened their smile with professional teeth whitening and been thrilled with the results. But it's a safe bet to say that everyone wants those results to last! While a cosmetic dentist can safely and reliably whiten your smile by 6-10 shades, what you do at home will have a big impact on how long your smile looks great. Keep reading for 5 tips you can use to keep your smile shining bright, both now and over the long-term!
1. Maintain Great Oral Hygiene Habits
The cleaner your teeth are, the better they'll look. Your oral hygiene doesn't have to be perfect, but you should be as consistent as possible.
Aim to brush at least twice a day for two minutes and floss once. An electric toothbrush is excellent for plaque control, and combining it with whitening toothpaste is a great way to remove surface stains each day.
2. Minimize Stain-Causing Foods and Beverages
You don't have to give them up entirely, but try to minimize your consumption of staining foods and beverages like coffee, tea, red wine, berries, tomato sauce, and turmeric.
3. Rinse With Water After Drinking Coffee, Tea, and Red Wine
If you still want to enjoy these beverages from time to time, make it a habit to swish with water several times afterward. This will rinse away any remaining pigments in your mouth before they can settle onto your teeth.
4. Touch-Up With Professional Products At Home
Everyone needs occasional touch-ups after a professional whitening treatment. How often will depend on the original shade of your teeth as well as your oral hygiene and lifestyle choices. However, most people touch-up about once a year.
Fortunately, it's very easy! With a take-home whitening kit from a cosmetic dentist, you'll keep your custom-made trays for many years. Then you only need to pick up an inexpensive refill of whitening gel from time to time.
5. Schedule Regular Checkups and Cleanings
Good oral hygiene habits at home are essential, but cement-like tartar will still accumulate that you can't remove on your own. With regular checkups and cleanings, your teeth and gums will stay clean and healthy, and you'll also get a professional polish twice a year.
A beautiful white smile takes years off your appearance and helps you feel great about yourself. With these 5 tips, you can keep it that way as long as possible!
About the Author
Dr. Angelo Julovich is an award-winning general, restorative, and cosmetic dentist with decades of experience. He combines the art and science of dentistry to provide beautiful cosmetic results and always helps his patients understand the best way to maintain their results at home. If you have any questions about teeth whitening, he can be reached via his website.