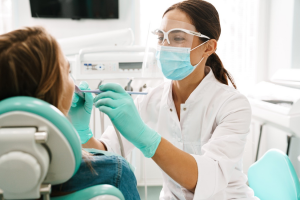 When most people think about their smile, caring for their pearly whites is often the first thing to come to mind—but your gums are just as important as your teeth and also just as vulnerable to oral health issues! In fact, according to the CDC, roughly half of all US adults over the age of 30 have some form of the disease. But fortunately, treatment options like scaling and root planing can easily eliminate the bacteria that pose a threat to your gums. Keep reading to learn a little more about this treatment process and some of its cost factors.
The Purpose of Scaling and Root Planing
Scaling and root planing is a type of periodontal treatment used to remove the buildup of plaque and tartar that contributes to gum disease. This form of deep cleaning is very important because if left untreated, gum disease has the potential to cause bone and tooth loss.
There are two primary types of scaling and root planing: preventive and therapeutic. Preventive treatment is utilized when patients are experiencing mild gum inflammation, while therapeutic scaling and root planing is used for more widespread and severe inflammation. Your dentist can determine which type will be most beneficial for your situation after examining your mouth.
Factors That Affect the Cost of Scaling and Root Planing
There are various factors that determine the cost of scaling and root planing, but arguably the biggest one is whether you're having preventive or therapeutic treatment. Other factors include:
The extent of the inflammation; preventive scaling is typically charged by quadrant, whereas therapeutic scaling is charged per the whole mouth. This means the cost of treatment depends on how much of the mouth needs treatment.
The number of visits needed to complete treatment.
Any necessary preliminary procedures.
It's also worth noting that many insurance policies will provide at least partial coverage for the cost of scaling and root planing, but you should always check the fine print of your plan beforehand.
Tips for Keeping Your Gums Healthy
Of course, you can also simply take measures to ensure that your gums are in excellent health, therefore negating the need for scaling and root planing in the first place! Here are some tips to help you do this:
Maintain excellent oral health at home by brushing and flossing every single day. Also, be sure to use an antibacterial mouth rinse.
Don't smoke or use tobacco products—these habits can wreak havoc on your gums and cause all sorts of oral health issues.
Eat a healthy diet; everything you eat plays a crucial role in regulating your oral health, so opting for smart choices and avoiding excessive amounts of sugar will greatly benefit your gums.
Continue to visit your dentist for routine preventive care; these visits will give your provider the chance to uncover any underlying problems with your gums.
About the Author
Dr. Angelo Julovich has proudly served patients and families in the Zionsville, IN area for several years! His practice offers a wide range of preventive, cosmetic, and restorative services, and his skilled team would be more than happy to help you achieve a healthy and beautiful smile that you'll feel proud to show off. If you have any questions about the article or would like to arrange a visit for you or a loved one, feel free to contact the practice online or by phone for assistance: (317) 973-3020.