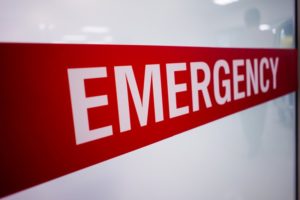 The COVID-19 crisis has created an air of uncertainty and stress that can make it difficult to think clearly if you're experiencing a dental emergency in Zionsville. Making the decision of whether or not to go to your local ER or your emergency dentist for help in this moment is crucial, and if you choose the wrong facility, you could be putting your oral and overall wellbeing at risk. Read on to learn four reasons why you should visit an emergency dentist instead of your ER to take care of an oral issue that's causing you pain during the COVID-19 crisis.
Get the Specialized Care You Need
Visiting an emergency dentist in Zionsville instead of an ER will ensure that you get the specialized care you need to treat your urgent situation. Dentists have spent years studying the facial and oral structure, giving them the most knowledge and experience providing treatments that target this area of the body. Not to mention, when you visit an emergency dentist instead of an ER, they'll provide you with a treatment solution that keeps the issue from arising again.
Less Trafficked Facilities
At the moment, dentists have postponed all elective treatments, leaving them solely focused on providing emergency dental care. This allows them to closely monitor their patients and prevent accidental contamination or infection. Because their facility traffic is so predictable, it allows staff to easily disinfect and sanitize the area before and after each patient. Dentists are also able to pre-screen their patients over the phone to make sure that they're not exhibiting any common symptoms of COVID-19 and putting their staff or other patients at risk. They're also able to ask patients to remain in their care until their appointment time, meaning you will be less likely to come into contact with other patients during your visit.
Receive Fast Dental Care
Because dentists are only providing emergency care, they're able to schedule patient appointments for as soon as possible, and in a majority of cases, the same day you'll call in. This will allow you to get the pain-relieving treatment you need without having to wait in discomfort for days at a time.
Reduce the Burden on Local Medical Professionals
One of the biggest reasons why dentists are still providing emergency dental care at this time is to reduce the stress and burden on local emergency rooms and medical professionals who are already overwhelmed with patients. So, when you visit an emergency dentist instead of the ER, you'll be leaving an open bed available for someone who could possibly be in a life-threatening situation.
In the time of COVID-19, it can be difficult to make sound and fast decisions, especially if you're put in a stressful situation. Your emergency dentist in Zionsville can handle most urgent situations, so if you're experiencing a toothache or any type of oral pain or out-of-the-ordinary symptoms, don't hesitate to contact them immediately.
About the Author
Dr. Angelo Julovich has been providing fast and effective emergency dental care to Zionsville for over 11 years. He offers same-day appointments for urgent patients and is currently adhering to the highest sanitation standards to protect both his patients and staff from COVID-19. He is currently operating during regular business hours and asks that all patients reschedule their appointments if they're feeling ill. For questions or to schedule an appointment for a dental emergency, visit Trinity Dental's website or call 317-769-3335.