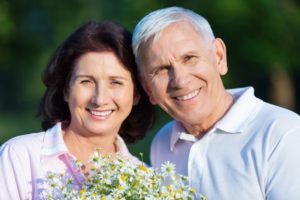 There are many ways to replace missing teeth. Typically, your dentist in Zionsville would recommend the best fitting tooth replacement option, which is dental implants. This is especially true if you have a current dental restoration, like dentures, that are ill-fitting and causing you oral health problems. Learn more about dental implants and how they can help you, especially if you're ready to replace those dentures.
Problems with Dentures? Rely on Your Dentist!
If you've replaced missing teeth with dentures, you might be familiar with the plight of the denture-wearer: slippage, constant readjustments, and a decrease in confidence when speaking. Luckily, there are other ways to make your dentures fit better outside of the store-bought adhesives. Your dentist is here to help you explore them and discover what may work best for you.
What Can Your Dentist Do for You?
Even if you're content with your dentures as an effective tooth replacement, your dental prosthetic will experience wear and tear over the years. One thing is true though: your jaw will change more than your actual denture.
When your jawbone is missing teeth, it starts to shrink, lose density, and even cause your face to prematurely age and sink in. Why? Your body recognizes that it's no longer needed to anchor or support your natural teeth. This causes your denture to lose its proper fit as the years continue to pass. That's where your dentist can help you to make your dentures fit better and maybe even provide a better solution altogether.
Your Dentist Can Reline Your Dentures
A reline is when your dentist refills the gap between your denture and gum tissue with more denture material. After your Zionsville dentist fills the gap here in our local office, they send it to a dental lab where the material is bonded permanently.
Not sure if a reline is really what you need? Explore this other option first.
Your Dentist Can Combine Your Denture with Dental Implants
As mentioned above, dental implants are one of the best ways to replace missing teeth. In the case that you're unhappy with your current state of oral health or unsatisfied with your denture, your dentist may be able to help you with implant retained dentures. These are dentures that are permanently anchored to the jaw with biocompatible implant posts. This way, your denture will not slip or rub against gums any longer!
Getting dental implants for your dentures or even relining your current denture will all start with a dental appointment. If you're ready to discuss your options, feel free to contact your local practice.
---
About Our Office
Here at Trinity Dental, we believe in providing options to our patients. We know that every mouth is different, ever dental issue is different, and therefore, we provide a variety of ways to address each person's concern. Your dental care will be personalized when you choose to visit us! Feel free to contact our office today to schedule your next visit.