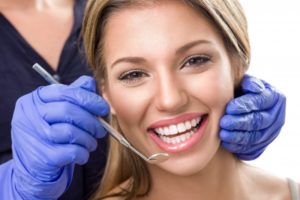 One of the best things that you can have between yourself and the team at your dental practice is an honest, open line of communication. That's why it's so important—and we encourage—to have patients ask their dental professionals questions. This also goes for the dental hygienist that works to clean your teeth, keeping them bright and white!
If you're unsure about what to ask your local hygienist during your next visit, consider these 3 questions! Keep reading to learn more.
Can You See the Cause of My Dental Pain or Discomfort? (If You Have Any)
If you've scheduled your dental visit because of dental pain, discomfort, or sensitivity, you can ask your hygienist if they can see the cause of your discomfort. In most cases, your hygienist will be able to explain to you the root of your problem.
Gum disease, tooth decay, teeth grinding, and jaw clenching can all cause sensitivity and pain in the jaw, neck, teeth, and gum line. If you notice any twinges of pain or feel uncomfortable about your smile, be sure to alert both your dentist and dental hygienist so that they close attention to specific areas of your mouth.
Do I Need to Tell My Regular Doctor About Any Concerns?
Believe it or not, there are many cases when your dentist may be able to spot the beginning of a much larger health concern even before your regular health practitioner. How? Many of the symptoms start to show in your mouth first before anywhere else in the body!
If there is a major problem with your mouth, your hygienist will break down the cause and effect that it could have on the whole body. Plus, they will also recommend that you speak to your regular doctor about it as well. This is especially true if you have pre-existing conditions or if you're currently carrying a baby.
Is There Anything That I Can Do at Home to Improve My Smile?
This may be the most important question of all: what can you do outside of the office to improve the health and appearance of your smile? Even if you have no serious concerns, there is always room for improvement when it comes to your teeth and gums. Your hygienist would be happy to give you tips on the best products or new techniques to try at home while brushing and flossing.
As you can tell, your dental hygienist is just as important as your Zionsville dentist. Don't hesitate to use them as a helpful resource when caring for your smile!
---
About Our Office
Here at Trinity Dental, we value everyone that works for our office. When choosing our dental team, we only choose dental professionals that take pride in their work, have excellent experience, and love providing high-quality care to our patients as much as we do! Feel free to call us and schedule your next dental cleaning and checkup.