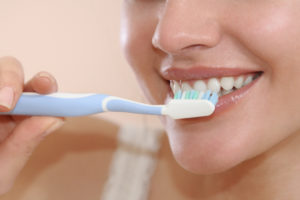 When you think of maintaining proper oral care, you may associate it solely with cavity prevention or maintaining the appearance of your pearly whites, but your dentist in Zionsville says there's so much more to it. It actually serves as a way to prevent greater health issues. As you read on, you'll learn about one of the major growing health concerns – Alzheimer's disease – and how practicing excellent oral hygiene and maintaining regular visits help to prevent it.
How Your Oral Health Affects Other Parts of Your Body
The main nemesis that you're battling when it comes to oral health is a form of the bacterium. The word 'form' is used because not all bacteria are malevolent. As a matter of fact, without them, life wouldn't be sustainable. There are, however, hundreds of types of bacteria that can cause a host of health problems. Your oral hygiene habits help to rid your mouth of them.
Your efforts are important because bacteria aren't immobile. They travel from the mouth, via the blood that permeates the gums and flows throughout the rest of your body. Thus, if you have an infection, the inflamed blood can go to other areas and cause havoc.
The Connection Between Oral Bacteria and Alzheimer's
One of the more alarming diseases that continues to grow is Alzheimer's, which is a neural-degenerative condition. More alarming is the fact that researchers are forecasting that the number of people diagnosed with this disease will triple over the next 40 years. Are you left to just hope that you're not one of the unfortunate people stricken with this condition?
Your Zionsville dentist says 'no.' Your ability to properly conduct oral hygiene plays a huge role in prevention. That's because the inflamed blood that leaves your mouth can travel up to your brain and cause it to atrophy, meaning you'll start to have decreased function.
How to Fight Back!
Alzheimer's disease has been quite puzzling to researchers and physicians for years, but with the latest discoveries into the connection between oral and brain health, patients are more empowered to protect their overall wellness. Here are some of the ways to fight back:
Practicing Oral Hygiene – Consistently cleaning your teeth and gums by brushing and flossing daily is a major weapon to fight bacteria that can contribute to the development of Alzheimer's disease.
Eating Healthier – Another way to control bacteria growth is to eat healthier, which includes a diet higher in whole foods like fruits and vegetables. Such choices help to create a more alkaline environment in your mouth, which is less favorable for harmful bacteria growth.
Visiting Your Dentist Regularly – With the watchful eye and skilled hands of your dentist, you have another way to fight the ills of oral bacteria growth and its contribution to disease and disorder. The semi-annual visits provide you with a thorough cleaning and a tediously conducted examination, which are geared toward sustaining a healthy oral cavity.
Alzheimer's is a debilitating disease, but it's comforting to know that you have the power to prevent it by maintaining some simple disciplines. To learn more about how you can enhance your health and to schedule a preventive care visit, reach out to your dentist today.
About the Author
A graduate of the Indiana University School of Dentistry, Dr. Angelo M. Julovich has been caring for patients for almost four decades. As a member of several professional organizations, he stays abreast of the latest advancements in the world of dentistry, so that he can provide his patients with the absolute best care. Dr. Julovich practices at Trinity Dental and can be reached for more information through his website.