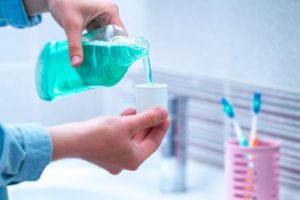 There's no doubt that brushing and flossing are important, but are they enough? Even if you think you're being thorough, you could still miss several spots in your mouth without realizing it, thus giving harmful bacteria a chance to cause decay and gum disease. Furthermore, even if you maintain an excellent oral hygiene routine, other choices you make – such as choosing the wrong foods – could end up harming your smile. Your dentist in Zionsville has 5 tips for keeping your mouth clean; read on to learn how you can use them to protect your teeth!
1. Make Sure You're Getting Plenty of Fluoride
Fluoride is an important mineral for strengthening your teeth and fighting off cavities; without it, your risk of tooth decay rises dramatically. Naturally, toothpaste and other dental products often contain fluoride, but you can also find it in the water you drink and the food you eat. However, you might not get as much fluoride as you should if you only drink bottled water. If you think your fluoride needs are going unmet, talk to your dentist and see what they suggest.
2. Use Mouthwash
Mouthwash doesn't just freshen your breath. Many rinses will contain fluoride to prevent cavities, and antiseptic mouthwashes will lower bacteria levels in your mouth. Ask your dentist what kind of mouthwash they recommend.
3. Don't Eat Too Much Sugar
A sugary snack every once in a while shouldn't be a problem, but if you eat them constantly you could be putting your smile in danger. The longer sugar stays in your mouth, the more likely bacteria are to feed on it and turn it into a harmful acid that can wear away the enamel protecting your teeth. To limit the damage these snacks can cause, pay close attention to how often you eat them. (It's normally a good idea to clean your mouth after enjoying a sugary treat by brushing or drinking some water.)
4. Maintain a Balanced Diet
Make sure you're eating plenty of different healthy foods that can promote oral health. Calcium-rich foods such as low-fat milk, cheese, canned salmon, and almonds strengthen the teeth and jawbone, and the vitamin C found in many fruits and vegetables helps keep the gums healthy.
5. Avoid Tobacco
Using tobacco in any form is one of the worst decisions you can make for your oral health. Not only can it stain your teeth, but it also introduces more bacteria to your mouth and weakens your mouth's defenses against infection. Ideally, you should avoid tobacco altogether; if you already use it, you can start taking steps to drop the habit.
The above practices – combined with brushing, flossing, and regular dental cleanings in Zionsville – will let you enjoy a bright, fully intact smile for many years to come. Feel free to ask your dentist for any other tips.
About the Author
Dr. Angelo M. Julovich has been practicing at his Zionsville practice, Trinity Dental, for 11 years now. He greatly enjoys seeing the expressions of his patients after he's given them a complete smile makeover. You can depend on him to provide excellent care during a regular dental checkup as well as during a more advanced procedure. To schedule an appointment or to ask about oral hygiene, visit his website or call (317) 769-3335.