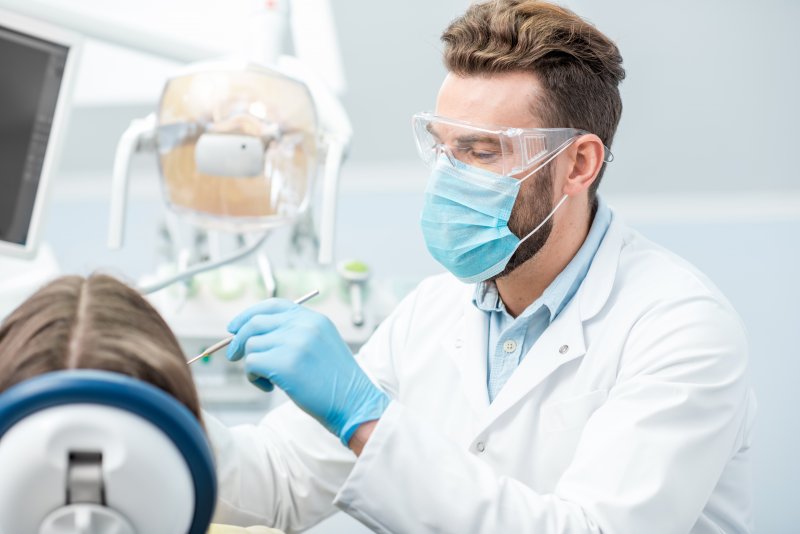 Like other individuals throughout the world, COVID-19 has caused people to rethink and formulate new ways to communicate, interact, and work. While some industries required a complete overhaul in the way they operate, others like your local dentist's office have implemented additional guidelines to minimize the potential transmission of harmful bacteria and viruses while continuing to provide high-quality service. So, exactly how has dentistry during COVID-19 in Zionsville changed? Read on to learn what you can expect when arriving for your next appointment.
Before You Arrive
In the past, you may remember simply calling your dentist's office and requesting an appointment. After a few minutes discussing availability, you and a team member settled on a specific time and confirmed insurance and address information. While this part of the process has not changed, you can expect to be on the phone a bit longer than before. Why? Because many dental offices are now added a pre-screening questionnaire that asks about your current state of health, whether you've been in contact with anyone who has tested positive for COVID-19, or if you've traveled anywhere in the last 14 days.
You may also discover that when you arrive, you may be asked to wait in your vehicle until it is time for your appointment and avoid bringing anyone with you if at all possible. This is to minimize the number of people in the office at one time.
During Your Visit
When entering, you may find that reading materials and beverage stations are no longer accessible, additional hand sanitizing stations are readily available, and dental team members are wearing personal protective equipment (PPE).
While having your teeth cleaned or undergoing an elective procedure (i.e. dental filling, teeth whitening), your dental team will likely be wearing a face mask, gloves, protective eyewear, disposable gown, and a face shield. This additional PPE is designed to better protect both parties during an appointment. Because some of the equipment used generates aerosols that can spray and splash upward, these particles can enter through the eyes, nose, and mouth of a hygienist, assistant, or dentist, hence the reason for PPE. To minimize these potentially harmful particles from entering into the atmosphere, your dentist may also use advanced chairside suction.
After You Leave
Although you may or may not see the following events happening, the process in which your dentist prepares for the next patient after you leave is thorough and complete. Committed to controlling the spread of potential infection, staff will begin cleaning and disinfecting all equipment, dental instruments, and frequently touched surfaces. These can include door handles, countertops, writing utensils, patient protective eyewear, and more.
To ensure there is enough time between patients to effectively sanitize, many dental professionals are also decreasing the number of patients seen in a day. While some of these precautions are not the "norm," your dentist remains committed to ensure you remain healthy and safe while visiting their dental office.
About the Author
Dr. Angelo Julovich enrolled in Indiana University's School of Dentistry, graduating in 1982. For 11 years, he has been with Trinity Dental and remains fully committed to his patients. To convey safety and caution, he and his team are taking extra steps to ensure everyone who visits the office is protected against the threat of COVID-19. With additional measures put into place, you can trust that Dr. Julovich is moving forward with your health and safety in mind. If you're preparing for an upcoming appointment and would like to know more about these new guidelines, contact us at (317) 769-3335.