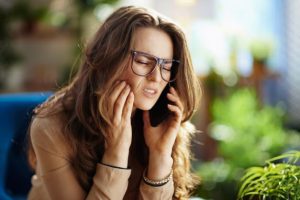 Dental emergencies always seem to happen at the worst possible time. Whether you chip a tooth while enjoying a late night snack, get injured during a weekend sports match, or encounter a raging toothache when you're on a vacation, you might be wondering how you can receive fast treatment. This blog post provides tips on how to find an emergency dentist ASAP.
Call Your Regular Dentist
If you are not traveling, call your normal dentist. Even if their office is not currently open, they may have instructions on their answering machine about whom to contact during an emergency situation. If they are open, they will likely do all they can to arrange their schedule to see you as soon as possible.
Do an Online Search
If you do not have a regular dentist, or you are away from your hometown, try Googling the term "emergency dentist near me." More than likely, your search will return a list of local dentists who offer emergency services.
Take a quick glance at their reviews to make sure you are visiting an office with a good reputation. It may also be smart to see what kind of financial options they offer. For example, you should find out if they accept payment from your insurance plan. Then, give them a call to find out if they can fit you into their schedule.
What if You Are Traveling Abroad?
Many well-developed countries have care standards that are similar to what you would find in the U.S., so a Google search or local directory search can help you find care quickly. You could also call your traveler's insurance company to see if they can direct you toward a trustworthy dentist.
If you are in a less-developed country, calling your travel insurance is still a good idea. Your hotel concierge might also have some resources to help you out.
Should You Visit a Hospital?
Generally speaking, hospital emergency rooms are not equipped to handle dental emergencies. For example, they cannot perform root canal therapy, remove damaged teeth, or repair chipped teeth. However, they are the best place to go if you are having any life-threatening symptoms, such as excessive bleeding or difficulty breathing. You should also go to the ER if you believe your jaw is broken or dislocated.
Minimize Your Pain
If it will be a few hours, or a day or longer, before you can receive treatment, you should take steps to minimize your discomfort. Here are a few tips:
Stay away from hard, spicy, chewy, and crunchy foods.
Take an over-the-counter pain reliever and/or apply a topical pain relief product.
Use a cold compress to minimize swelling.
Properly store any loose restorations or lost teeth. Restorations can be kept in a small container with a lid. A lost tooth should be placed in milk or a tooth preservation solution, (keep in mind that it will only remain viable for an hour or two at the most).
Dental emergencies can be scary! Use the tips in this article to find treatment as soon as possible.
Meet the Practice
Dr. Angelo Julovich is a highly experienced dentist in Zionsville. Our office is open late two days a week to accommodate our patients' needs. We try to schedule emergency patients on the same day they call. Our goal is to get you out of pain ASAP. To learn more about how our team may be able to serve you, contact us at 317-769-3335.