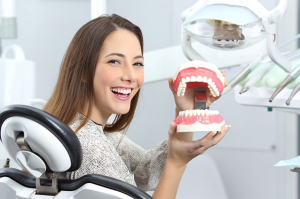 Dentures are one of the most popular restorative dental treatments around, and countless generations of patients have turned toward these prosthetics to rebuild their smiles and enjoy a fully functional set of pearly whites once more. However, as fantastic and practical as dentures are, they're not designed to last forever, and even well-made dentures will need to be replaced after several years of use. But how are you supposed to know when it's time to visit your dentist to receive new dentures? Here are four signs that'll give you a hint.
1. Your Dentures Feel Loose or Fall Out Often
Well-made dentures rely on friction and muscle control to remain in place on your gums, and sometimes a special type of denture adhesive can also be used to stabilize them. But over the years, the fit of your dentures is bound to change; constant shifts in your underlying bone structure (due to having missing teeth), as well as the daily use of your dentures, can cause them to become ill-fitting to the point of slipping and sliding around your mouth, or even falling out entirely. If your dentures aren't able to remain fixed in place, it's time to visit your dentist for adjustments or replacement dentures.
2. You're Unable to Speak Clearly or Eat Properly
One of the most obvious signs that your dentures don't fit correctly and need to be replaced is if you're unable to speak or eat without difficulty. If your dentures are moving around your mouth, you'll struggle to make certain sounds or enunciate certain words—and you might accidentally spray saliva all over your family members while talking! You might also struggle to chew and swallow your food, which can impact your overall nutrition.
3. Your Dentures Are Damaged, Disfigured, or Discolored
Dentures consist of two main components: the base, along with the replacement teeth. Both of these parts work in tandem to restore your oral functionality; however, if they become compromised in any way, your entire restoration is at risk. If you're inspecting your dentures at home and noticing signs of damage, such as chips or cracks, areas that have become warped or disfigured, or even odd staining and discoloration, your dentures need to be replaced. It's worth mentioning that excellent oral hygiene combined with the proper care of your dentures can prevent most instances of damage.
4. You're Feeling Pain While Wearing Your Dentures
You should never have to endure pain simply from wearing your dentures—they're meant to help you, not harm you! Properly fitted dentures should not cause you any pain whatsoever; if you're feeling noticeable discomfort whenever you're biting, chewing, or simply moving your mouth while wearing your dentures, it might indicate they no longer fit correctly. Also, if you notice any sores, lesions, or odd changes to your gum tissue, you should see your dentist promptly to have your dentures replaced or refitted.
If you have missing teeth, there are no doubts that having dentures can greatly improve your quality of life—but you should also know when it's time to have them replaced, so that they're able to continue serving you well!
About the Practice
Under the leadership of Dr. Angelo M. Julovich, the team at Trinity Dental is pleased to provide patients and families in the Zionsville, IN area with an elite level of dental care! They offer a wide range of preventive, cosmetic, and restorative options such as dentures to help you rebuild your smile and maintain optimal oral health moving forward. If you have any questions about dentures or you suspect it might be time to replace your restoration, feel free to contact the practice online or over the phone for additional information or assistance. Telephone: (317) 769-3335.