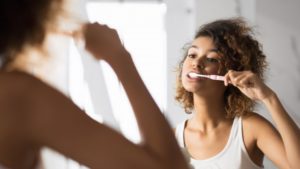 According to the American College of Prosthodontists, dental crowns are one of the most common restorative procedures in the United States. Not only are they incredibly versatile, but in many cases, they prevent the formation of additional oral health problems down the road, such as tooth infections or a broken molar. After spending money on repairing your teeth, it makes sense that you'd want to get the most out of your restoration. Read on to learn how you can make your crown last longer, and how to tell if you need it replaced.
Tips to Make Your Crown Last Longer
The average lifespan of a well-maintained dental crown is about 15 years. With the proper daily care, not only will you be able to get the most out of your investment, but you'll also be caring for your other teeth, preventing any unexpected dental emergencies from popping up or severe oral health problems. Here are some tips and tricks on how you can make your restoration last:
Maintain a healthy diet by being conscious of your carb and sugar intake.
Visit your dentist every six months for checkups and cleanings.
Stick to a dental hygiene routine of brushing, flossing, and rinsing your mouth.
Avoid chewy, hard, and sticky foods.
Don't use your teeth to open packages or other items.
Avoid bad oral habits such as smoking and teeth grinding.
With these precautionary measures in place, you'll be able to minimize the risk of accidentally breaking or damaging your crown and prevent harmful oral bacteria from accumulating in your mouth, causing dental crown failure.
Knowing When It's Time to Replace Your Crown
Unfortunately, dental crowns aren't made to last forever, so you'll need to eventually have your restoration replaced. If you visit your dentist every six months for a checkup, they'll be able to let you know if your crown is failing and whether you'll need to replace it. Otherwise, you may experience some tooth sensitivity that could signal that your crown is broken or leaking. In this case, contact your dentist and let them know your symptoms. They'll schedule an urgent appointment for you to replace your crown so that you don't risk an infection developing.
Choosing the Longest-Lasting Restorative Option
For patients who had a severely damaged tooth extracted, they may benefit from an implant-retained dental crown. This replaces the entire structure of the missing tooth and restores the function and feel of your completed natural smile. It also offers several unique advantages, such as prevention of jawbone deterioration, restored bite, and preservation of your facial structure.
Whether you'd like to replace a missing tooth with an implant-retained crown or need to repair a damaged tooth, dental crowns are incredibly versatile and long-lasting restorations. The best way to learn whether you can benefit from a crown and take the best care of your restoration is to schedule a consultation with your dentist.
About the Author
Dr. Angelo Julovich became a dentist because he has always been passionate about building and creating. Through advancing his education, he has sharpened his skills in crafting dental crowns, bridges, and other restorations. He uses the highest quality of materials to provide natural-looking and exquisite results. For questions or to schedule a consultation to get a dental crown, visit Trinity Dental's website or call 317-769-3335.