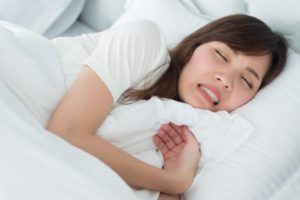 If your dentist just told you that your oral health is being negatively impacted by your daily lifestyle habits, maybe you should consider making some changes. While it might not be easy, it's imperative that you understand just how detrimental certain practices and behavior can be to your mouth and body. To improve your teeth and gums and keep them healthy and strong, start by breaking these 5 bad dental habits.
Teeth Grinding: A Collision Course for Disaster
Teeth grinding is a very common dental problem that many adults and children experience. When teeth come into contact with each other and begin to grind and clench, this not only causes excessive wear and tear, but it also leads to jaw pain, which can result in TMJ. To prevent this disastrous collision course, talk to your dentist about a nightguard. This custom device is worn while you sleep and can prevent teeth grinding and clenching.
Non-Food Chewing: Leave the Nails and Pens Alone
Are your pencils looking as if the dog got ahold of them? What about your nails? Are you finding yourself hiding your hands because of all your nervous nail-biting? Take the pencils out of your mouth and let your nails grow! Teeth are designed to tear and chew through food, not inanimate objects. When they come into contact with plastic or other hard material, it can cause the enamel to wear down and become thin, leading to sensitivity and possible infection over time. Try opting for sugarless gum, or, if all else fails, investing in a nice pair of gloves might help!
Hard Brushing: Your Toothbrush is Your Friend, Not Foe
If you think brushing as hard as possible is the best way to achieve thorough teeth cleaning, you're wrong. In fact, brushing your teeth with too much force can actually be damaging to your pearly whites and gums. All you need to do, whether you have a manual or electric toothbrush, is to gently glide the brush along your teeth and gum line, using a circular motion. Make sure the brush is soft and you're using just enough force to move the brush. Believe it or not, it doesn't take much to get rid of harmful bacteria living in your mouth.
Snacking: Why Bigger Meals Are Better
There's no harm in enjoying a snack here and there, but more often than not, people tend to reach for sugary or starchy foods – both of which can lead to increased bacteria growth and possible tooth decay. When starting your day, try to eat well-balanced meals for breakfast, lunch, and dinner, and opt for healthier alternatives when needing a snack. Not only will your mouth thank you, but so will your waistline.
Smoking: Why Yellow Teeth Aren't a Trend
You don't see your favorite television star walking around with yellow, dingy teeth, do you? The reason is that stained and discolored teeth are never something to be desired. Bad habits like smoking can take your pearly whites and turn them dark, leaving you with not only an unpleasant smile but bad breath, too. If you're having a hard time quitting, try a support group or one of the many over-the-counter products to help you kick the habit.
Bad dental habits don't have to be a normalcy, but you'll need to take the necessary steps to make a change and ultimately, improve your oral health. If you're struggling, talk to your dentist about tips and suggestions that will help you avoid these vices and keep your smile looking its best.
About the Author
Dr. Angelo Julovich began his undergraduate studies at Purdue University Calumet Campus before transferring to Indiana University Northwest to complete his degree. He then went on to enroll in Indiana University's School of Dentistry, graduating in 1982. Recently voted Top Dentist for the 10th year in a row, Dr. Julovich believes in the importance of preventive care. Offering general cleanings and checkups, he and his team will be happy to discuss ways to achieve better oral health and even provide tips for breaking bad dental habits. To find out how we can help you, contact us at (317) 769-3335.