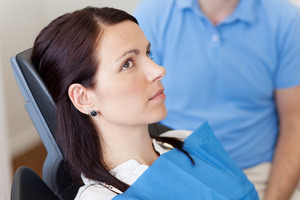 You've been told that you need root canal therapy to deal with the infection that's causing your toothache. One day, though, you find that the tooth in question is no longer in pain. You may initially think that a root canal isn't necessary anymore – but this assumption is very likely incorrect. Below is a brief explanation of why your dentist may still recommend root canal therapy even in the absence of pain.
Why are Root Canals Performed?
At the center of each tooth, there's a collection of nerves, blood vessels, and connective tissue called dental pulp. If a cavity manages to reach this area, the pulp will likely become infected. Not only does this often result in pain, but it could also eventually lead to serious health issues, such as an increased risk for heart disease or a life-threatening condition known as sepsis.
Your dentist can protect your tooth and your body from the most severe consequences of infected pulp via root canal therapy. With this treatment, the pulp is removed, and the inside of the tooth is sterilized to ensure that no harmful bacteria are remaining.
Why is a Root Canal Sometimes Needed Even if There's No Longer Any Pain?
When your pulp becomes infected, bacteria will attack the nerve, which can result in continuous or recurring discomfort. Eventually, the infection could cause the nerve to die, and as such your pain will go away. Of course, even when the nerve is dead, the infection will still be there, and it could still potentially spread beyond the roots of your teeth. Thus, a root canal could still be needed to truly solve the problem and save the tooth from needing to be extracted.
How Does Root Canal Therapy Work?
Regardless of whether or not your tooth is currently in pain, you can count on your dentist to carry out the root canal procedure while keeping you as comfortable as possible. Normally, the procedure involves these steps:
A local anesthetic is administered.
A hole is created in the chewing surface of the tooth.
The infected pulp is gently removed.
The inside of the tooth is cleaned.
A biocompatible substance is used to fill the now-empty tooth.
The hole in the tooth is resealed.
In most cases, a dental crown is placed after root canal therapy is complete.
If you speak with your dentist, they can go over the steps of root canal therapy in more detail. They can also give you a full explanation of why you might need the procedure; it's easier to commit to the treatment when you fully understand why you need it, even if you're not currently suffering from dental pain.
About the Author
Dr. Angelo M. Julovich graduated from the Indiana University's School of Dentistry in 1982. Since 2008, he has been named a Top Dentist in the Zionsville area. His practice, Trinity Dental, offers emergency dental treatments such as root canal therapy. To schedule a consultation with Dr. Julovich, visit his website or call (317) 769-3335.