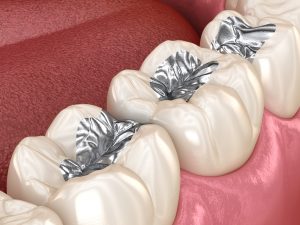 Metal has been used to fill cavities and prevent future tooth decay for over 150 years. However, recent research has raised new doubts about whether metal fillings are safe for long-term health. Although they are often called "silver" fillings, most modern metal fillings actually contain a mix of tin, copper, silver, and mercury – and it's this last component that may be dangerous. Do you have metal fillings on your teeth? Keep reading to learn what researchers say about this common restoration and discover why you may want to consider safer alternatives.
Are Metal Fillings Safe?
The American Dental Association considers metal fillings safe for both children and adults. However, researchers from the University of Georgia recently found that people with more than eight metal fillings could be at-risk for increased levels of mercury in their blood.
According to the Environmental Protection Agency, high levels of mercury can harm the brain, heart, kidneys, lungs, and immune system of people of all ages. Further scientific research published in the International Journal of Environmental Research and Public Health revealed that mercury exposure from metal fillings may be associated with:
Neurological disease
Multiple sclerosis
Alzheimer's disease (for those who are 65 or older with metal fillings)
Additional Reasons to Replace Metal Fillings
Beyond the potential health risks, there are additional reasons why you may want to replace your metal fillings. For instance, metal restorations are temperature-sensitive and may expand and contract when you consume very hot or cold food and drinks. Over time, the frequent expansion and contraction of your filling may contribute to tooth sensitivity or even cause your enamel to fracture. In addition, certain components in metal fillings, such as copper or tin, can cause allergic reactions. Inner mouth sores are a common symptom of allergic reactions caused by metal fillings.
Alternatives to Metal Fillings
Fortunately, many dentists already offer a safe, mercury-free alternative to metal restorations: composite resin. Also known as tooth-colored fillings, these restorations are made from a mix of acrylic plastics blended with tiny glass particles. Tooth-colored fillings are nontoxic, bond easily with enamel, and can blend in seamlessly with your natural smile. Additional benefits include:
Restore up to 95% of the original strength of a tooth.
Can typically be placed in less than one hour.
Can last up to 10 years with proper care and regular dental checkups.
Insurance usually covers a large portion of the costs.  
For many years, complaints about metal fillings were often connected to aesthetics. Dark metal is highly noticeable next to white enamel, even on back teeth. The new research highlighted above provides even more reasons to consider replacing metal fillings with tooth-colored restorations.  
About the Author
Voted a "Top Dentist" in the Zionsville area since 2008, Dr. Angelo Julovich has decades of experience restoring patient smiles. He regularly fills cavities with custom color-matched composite resin fillings at Trinity Dental. To learn more about the benefits of tooth-colored fillings, visit the Trinity Dental website or call 317-769-3335.