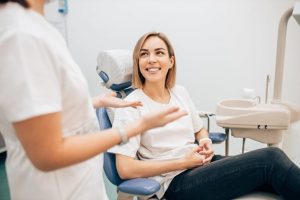 Dental fillings are a tried-and-true solution for treating decayed teeth, and for centuries dentists have used fillings made of metal alloys with ease and efficacy. However, if you have one or more of these amalgam fillings, then you probably know just how awkward and unnatural they can seem whenever you smile. Fortunately, a more aesthetically pleasing option is available! And better yet, these fillings don't just look better; they also come with several other awesome benefits. Keep reading to learn more about why you shouldn't think twice about getting tooth-colored fillings for your compromised teeth.
The Potential Problems with Amalgam Fillings
Amalgam fillings, which are generally made from a combination of metals including silver, gold, zinc, copper, and mercury, have been the go-to solution for filling cavities for quite some time. While they're extremely durable thanks to their composition, they're also quite noticeable due to their dark gray color.
Another downside to amalgam fillings is that treated teeth can sometimes become more sensitive to temperature changes, as the materials used in the fillings are more responsive to heat and cold than other materials. This characteristic of amalgam means that the fillings can expand eventually and crack the tooth, necessitating further treatment.
It's also worth noting that in recent years, some people have become more hesitant to have mercury placed in their mouth because it's a notoriously toxic substance; though most research shows that the amount of mercury used in dentistry is entirely safe.
The Benefits of Tooth-Colored Fillings
Instead of metal, tooth-colored fillings are made using a composite resin that can be sculpted and shaded to perfectly match a patient's enamel, meaning that the restoration will seamlessly blend into the smile. People won't even be able to tell that the filling is present unless you let them know!
The resin is also able to form a much stronger bond with the tooth enamel compared to amalgam, allowing your dentist to preserve more tooth structure during placement, thus resulting in a higher-quality repair. In fact, teeth treated with composite fillings receive restoration to almost their natural strength.
Better yet, these fillings are also potentially safer; not only are they free of mercury or other metals that might cause allergic reactions in patients, but there have also been no known allergic reactions to composite materials.
If you're in need of a new dental filling or you're hoping to upgrade an existing amalgam one, you shouldn't hesitate to opt for a tooth-colored filling. It's an option that is certain to restore and preserve the natural beauty of your smile!
About the Practice
The team at Trinity Dental is thrilled to serve patients and families in Zionsville and the surrounding area. The practice is led by Dr. Angelo M. Julovich, who received his DDS from Indiana University's School of Dentistry. If you have any questions about tooth-colored crowns or would like to schedule a visit, feel free to contact the practice online or over the phone for further assistance: (317) 769-3335.