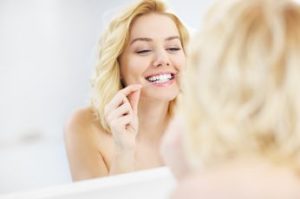 These days, everyone's looking for ways to be more efficient. Modern life is busier than ever, so getting more done in less time is a win-win situation. And when it comes to having a great smile, any effort spent on keeping your teeth and gums clean is well worth it. The better your oral hygiene habits, the less dental work you'll need from a Zionsville dentist in the long-run – which everyone can agree is a good thing. Keep reading below for 7 hacks that will keep your smile healthy and happy!
1. Break Up Your Flossing
Just like daily exercise is still effective when it's broken into shorter segments, you can make flossing easier by breaking up your routine. For example, floss your upper teeth in the morning and your lower teeth at night.
And although the goal is always to floss 7 days a week, don't forget to aim for better, not perfect. Many people throw in the towel altogether if they miss a day or two, but consistently flossing just 3-5 times a week will still have huge benefits.
2. Don't Forget To Clean Your Tongue
Your tongue harbors millions of bacteria that contribute to gum disease, cavities and bad breath. Remember to clean it every day using a tongue scraper or by brushing it thoroughly.
3. Swish With Water Frequently
A toothbrush and floss aren't always readily available, but swishing with water several times will help to rinse away residual sugars and acids in your mouth after meals, snacks or drinking sugary beverages like juice or soda (although it's best to minimize these as much as possible).
4. Reconsider Whitening Toothpaste
Whitening toothpaste is fairly abrasive, which is why it removes surface stains. It will help your teeth look cleaner and brighter, but it won't actually change the shade of your teeth from yellow to white (you have to use a whitening treatment to do that).
Long-term use of a whitening toothpaste can wear your enamel down over time, which can actually make your teeth more susceptible to staining. If you want brighter teeth, talk to a dentist about the best way to whiten and stick with a gentle toothpaste.
5. Keep Sugar-Free Gum On Hand
Similar to swishing with water, chewing sugar-free gum is a great on-the-go way to counteract the effects of sugar and acids after snacks and meals. It also freshens your breath, which is an added bonus.
6. Use Good Brushing Technique
Use a soft-bristled brush and angle your bristles at 45-degrees towards the gumline. Brush for a minimum of 2 minutes with light, gentle pressure, and make sure to brush the front, back and chewing surfaces of all your teeth.
Also, don't hesitate to ask a dentist or hygienist for feedback or a demonstration at your next checkup.
7. Don't Skip Checkups
As always, along with great hygiene habits at home, regular checkups and dental cleanings in Zionsville form the foundation of good oral health!
About the Author
Dr. Angelo Julovich is a Zionsville dentist who understands how important prevention is to his patients' oral health. He and his staff always spend educating their patients about good hygiene habits because they know that they're crucial for healthy teeth and gums. If you have any other questions your oral hygiene, he can be reached via his website or at (317) 769-3335.