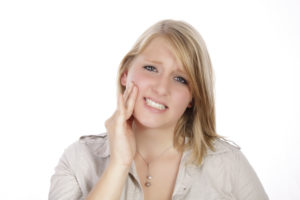 If at all possible, we always try to save a tooth rather than extract it. However, sometimes it's necessary to remove one of your pearly whites to relieve dental problems and get your smile back on track. The extraction process is nothing to fear, and we'll do our best to make sure you're comfortable during the procedure. But how long can you expect recovery time to take? According to your Zionsville dentist, the answer to that question depends on the nature of the extraction.
Simple Extractions
Some tooth extractions are a fairly simple, straightforward process. Your dentist may simply numb the area around the tooth and gently pull it out using specialized tools. This may happen for teeth that are easy to access and that have to be removed because of decay, trauma, or even gum disease.
If no surgical methods are necessary for the extraction, we may recommend that you take the rest of the day off and relax at home for a bit. You may have some swelling, mild bleeding, tenderness around the extraction site.
Mouth wounds tend to heal much more quickly than wounds in other parts of the body, so within week or two, you should notice that there has been a significant amount of repair around the area. The soft tissue (the gums) might be completely healed within a month or so. However, it can take several months before the bone under the gums finishes its healing process.
Complex Extractions
Some extractions are much more complex because of the way the teeth are positioned. If there is overcrowding, or if your dentist has to cut into your bone or make an incision in your gums, the healing timeline will be significantly longer than with a simple extraction. This is often the case for wisdom tooth extractions.
You'll probably need to take a few days off work and avoid strenuous physical activity for a week or so. Once the swelling and tenderness have subsided, it's still a good idea to be careful around the extraction site. As is the case with simple extractions, it may be a few weeks before the soft tissue completely recovers and months before the bone heals. Still, you shouldn't notice any significant discomfort after the first week or two.
Listen to Your Dentist's Instructions
Here, we've just provided some general information about recovery time after a tooth extraction. If you need to have a tooth pulled, your dentist in Zionsville will be sure to give you detailed instructions regarding your healing period so you can prevent infection, manage any discomfort, and be back to your normal, smiling self as soon as possible.
Is your tooth in pain? Your emergency dentist will do their best to save it, but if that's not possible, a tooth extraction may be what you need to find relief.
About the Dentist
Dr. Angelo Julovich, your Zionsville dentist, is a compassionate tooth doctor who always looks for the best way to relieve his patients' pain. Whether you think you need an extraction or have questions about other dental treatments, please contact our office at 317-769-3335.