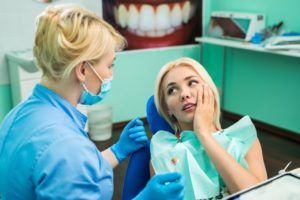 While you'll hopefully never experience a dental emergency, not every broken, knocked-out, or painful tooth can be avoided. Thankfully, there are several reliable treatments your Zionsville emergency dentist can use to get you out of these scary situations. Knowing what they may recommend when you step into their office during a dental emergency can help you feel more prepared and a little less overwhelmed. Here are the six most common dental treatments that are used to handle dental emergencies.
1.) Dental Bonding
Dental bonding is made of the same composite resin as tooth-colored fillings. This flexible, biocompatible putty-like substance can be used to fill in minor chips and cracks or recement small broken pieces of enamel. Dental bonding is a quick, easy treatment that can repair slightly damaged teeth and protect them from sensitivity and bacteria.
2.) Dental Crown
If a tooth is severely broken, a tooth-shaped cap called a dental crown can be used to restore its function and appearance. These custom restorations fit over the top of a natural tooth to preserve its natural structure while strengthening it.
3.) Gum Disease Therapy
Some dental emergencies are caused by a common bacterial infection called gum disease. This oral health condition is the leading cause of tooth loss in the US, but it can be reversed if caught early enough. If your gums are sore, inflamed, or bleeding, your dentist may recommend gum disease therapy to contain the infection before it causes permanent damage.
4.) Root Canal Therapy
Serious toothaches that are the result of a dental infection can be quickly and comfortably relieved with root canal therapy. Despite its poor reputation, root canal therapy is faster and more comfortable than ever thanks to modern dental technology. This method removes damaged and infected tissues from inside your tooth to ease pain and avoid the need for an extraction.
5.) Tooth Extraction
Your Zionsville dentist will always do everything they can to repair your natural smile. However, if there are no other viable ways to save a tooth or protect the rest of your mouth, they may recommend extraction. Once the problematic tooth is removed, you'll need to discuss tooth replacement options with your dentist to prevent future complications.
6.) Tooth Reimplantation
When a permanent tooth gets knocked out, time is of the essence. Be very careful to avoid touching its roots and store it in milk or saliva to keep it in good shape until you reach your dentist. It's essential that you're treated within an hour for the best chances of successful reimplantation.
Dental emergencies are often sudden, alarming, and overwhelming. However, knowing which procedures your dentist may suggest when you reach their office can help relive some of your stress.
About the Author
Dr. Angelo M. Julovich of Trinity Dental is committed to helping the smiles of Zionsville, IN and the surrounding communities stay happy, healthy, and beautiful for life. Recently, he was voted Top Dentist for the 11th year in a row! While he always works hard to prevent dental emergencies from happening, he offers a wide variety of treatments that can get your oral health back on track in no time. If you or a loved one needs urgent dental care, don't hesitate to contact him via his website or at (317) 769-3335.